Ah, El Clásico. Definitely the greatest derby in the world. It's Real Madrid vs Barcelona, Madrid vs Catalunya, Madridistas vs Cules. Always a fun game to watch. Full of action, goals and on and off the pitch banter between the players, but it is often ruined by referees and last night was no different. It is hard to be a referee in a match full of tension like this one, but Spain has a big problem despite that. First of all, let me just be clear and say that Spain has the worst referees in top 5 leagues. There is a great number of mistakes in every game, not just this one. Go and watch 3-4 games in La Liga and you will see just how much mistakes these referees make. League itself is pretty fun to watch with goals flying in all the time and a lot of weaker sides play football very good tactically, but referees are beyond terrible. Not all though. Mateu Lahoz and Jesús Gil Manzano are pretty good, better than the others. Secondly, mistakes happen I know, but, if they happen all the time and are constantly changing games because of those poor decisions then there is a bigger problem.
Alejandro Hernández Hernández was given the refereeing role yesterday and why he got it is beyond me. Every game he gets to be a referee in is full of mistakes and controversies. Even the last few El Clásicos he was refereeing had a bunch of mistakes for both sides, he is just not the one who should be given games like this. The second goal for Barcelona was a clear foul on Varane, Luis Suárez even admitted it in a post-game interview. Today, images and videos of the fourth referee yelling to Hernández that it is a foul after Luis Suárez draggedRaphaël Varane's leg emerged. Hernández heard him but ignored it and Barcelona scored.  Gareth Bale should have also been shown a red card and the game was supposed to be 10 vs 10, but again, the referee failed. And then the biggest mistake happened. A beyond clear foul on Marcelo and a penalty which was not given. The referee destroyed what could have been an even better game than it was simply because of his wrong decisions.
The match itself was full of action and tension like always. The game was controlled by both sides at different times. Real Madrid should have been better in the second half due to playing against 10 men the whole second half but they again showed problems without Cristiano Ronaldo and it just proved again that without him they just can't finish and score. You could almost feel the tension through the TV. After every foul, there was a bunch of players from both sides in the referees face, a lot of pushing around, neck grabbing, and that MMA punch from Sergi Roberto to Marcelo which earned him the red card just before the end of the first half.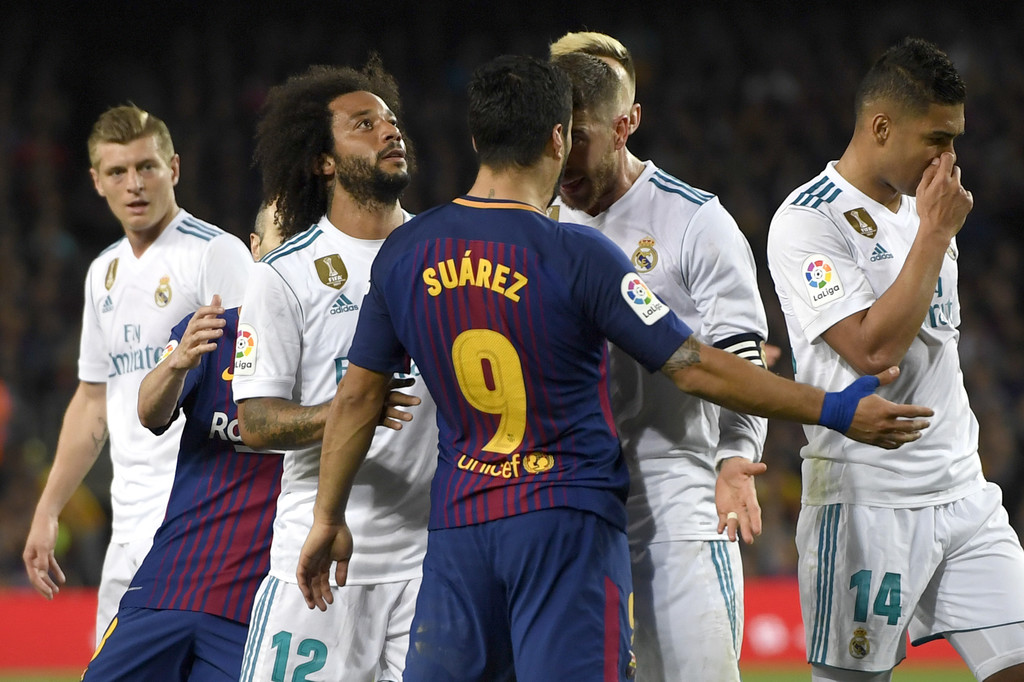 The tension didn't stop at the field. While the players were in the tunnel, Lionel Messi could be heard saying to the referee: "You're shit, you're really shit", which made the referee be even more shit in the second half. And then just before heading out to play the second half, Nacho and Gerard Pique got into an argument.
The game ended 2-2 with goals from both Cristiano Ronaldo who had to leave the pitch at halftime due to a knock he received after scoring and Lionel Messi who was a bit quiet this Clásico despite the goal. Luis Suárez scored the opening goal, and Gareth Bale scored a beauty to tie the match.
All in all, it was not an important Clásico. Barcelona has dominantly won this season's La Liga and their unbeaten streak continues with only 3 more games remaining. They have not lost even once in La Liga this season. The first place was not at stake this time, but pride was. Even if the game was not important and couldn't change the La Liga champion, both sides were playing like it was a decisive match for the 1st place. Though if it had been, then the real trouble would happen due to that terrible refereeing. Luckily, VAR is coming to La Liga next season so let's hope that there are fewer mistakes.