"We can't be arrogant but we can be confident. We know it is in the DNA of Real Madrid to win the Champions League." – Sergio Ramos
The captain of "Los Blancos" has said this on many occasions, but that opinion is mostly shared by every Real Madrid player. It's not that hard to see it though. Their La Liga campaign this season has been terrible, to say the least, however, in the most prestigious tournament in the world they have been playing like real champions. This, put together with the fact that their fans go absolutely insane every time there is a Champions League game being played makes it obvious which competition is the most important for the club. Being the first team to win it two times in a row and being the team with the highest number of Champions league trophies (12), playing (and winning) 4 Champions league finals in the last 5 years you'd think that their motivation for playing this competition would be non-existent by now and that would be the normal thing considering their achievements, but Real Madrid players have a sick love for this trophy, a love almost borderline creepy. Seeing them play poorly in La Liga this season, losing points in ridiculous ways and looking like they are completely lost and confused, it seemed their motivation has finally run out, but as soon as the famous Champions League anthem started playing they looked like a completely different team for those 90 minutes. Even so, 3 times in a row is too much and nobody in their right mind expected them to be in the final again, right? Well, the players definitely did, and so did their coach, the French magician Zinedine Zidane.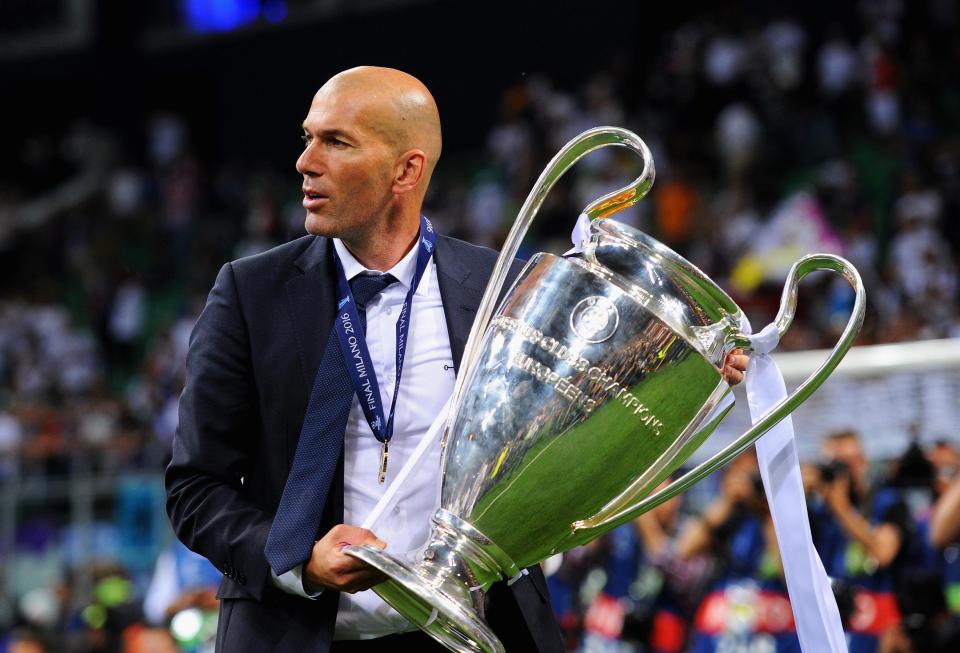 Although they played better last year, they had tougher opponents this campaign, knocking out the French champions PSG, Italian champions Juventus and then the German champions Bayern München. For those of you who have watched football for a long time, you know how tough it is to win the Champions league even when you draw weaker opponents, because in a cup competition literally the stupidest goal ever can decide the tie. It takes a tremendous amount of skill (a little less than the domestic league in my opinion), luck and a strong mentality, but you also know that Real Madrid has those exact three things, especially the last one, which I will dive deeper into.
I saw a post on Twitter yesterday saying: "How is it possible that they have entered the Champions league final YET again?" This person is asking that because Real Madrid struggled hard at home in the Champions League almost every game this season, basically hanging by a thread against Bayern München looking completely lost, and truth be told, weaker than the Bavarian club. Bayern needed one more goal from the 60th minute onwards to advance, and even though they were attacking for 30+ minutes straight without stopping once, Real Madrid managed to defend and advance to the final. On one hand, Bayern, who is with Real Madrid and Barcelona right now the most dangerous team to face in Europe, attacked really dangerously, making almost every chance a problem for "Los Merengues", but on the other hand, you knew deep down that they will not score. Why? Well, I'm going to answer this gentleman's question, and it is really easy to answer: Winner mentality.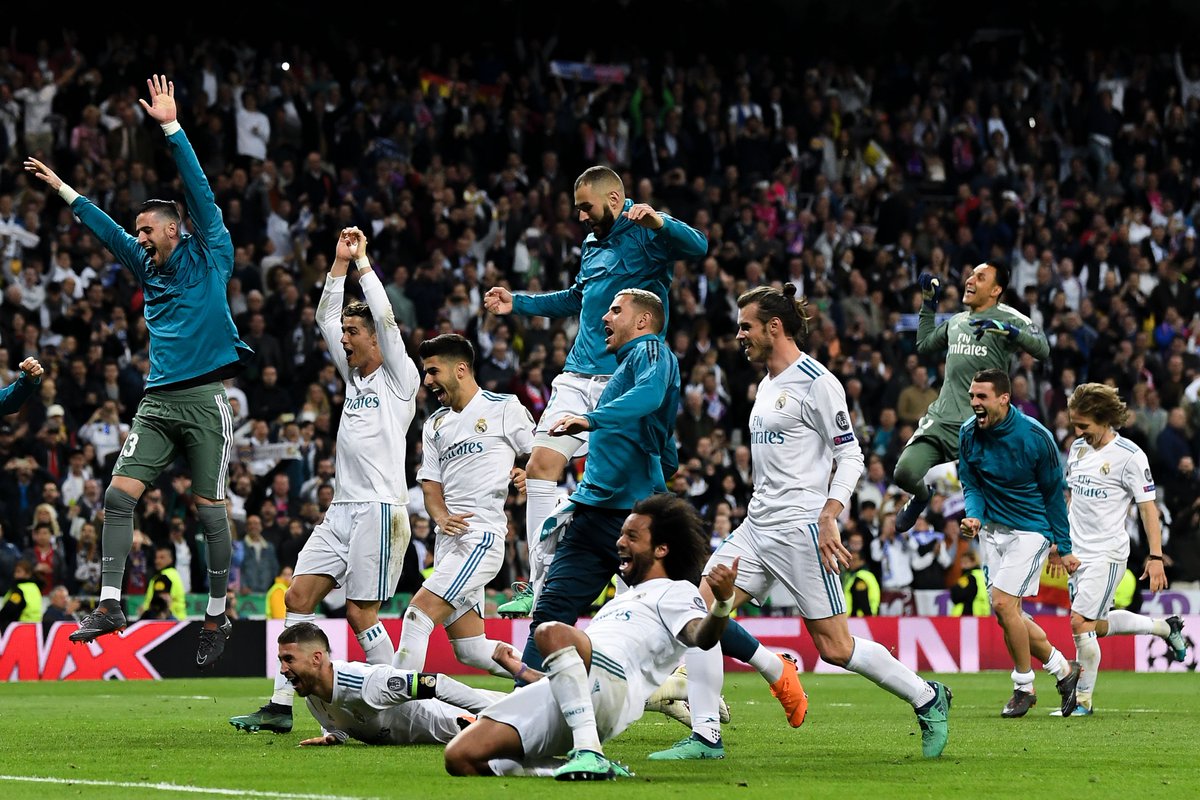 Let's get something straight first. This Real Madrid generation is full of experience, containing players that featured in more finals individually then some teams in their whole history. Marcelo, Sergio Ramos, Isco, Luka Modrić, Toni Kroos, Dani Carvajal, Karim Benzema, Cristiano Ronaldo, Nacho, Raphaël Varane, Gareth Bale and Casemiro all have 3 or more Champions league trophies already under their belt. All of them except Ronaldo, Ramos, Modrić, Bale, and Benzema are players that are not yet even in their prime or have just hit their prime. plus you still have Lucas Vazquez, Mateo Kovačić and Kiko Casilla who have 2 of these trophies and have gained all that valuable experience playing alongside those older players. The young prodigy, Marco Asensio, has one trophy too and even a goal in the final. That's 15 players who have experience (playing or just being part of the final which is important too) in the Champions League finals!
Secondly, the skill level of every player is pretty much of the highest quality. Real Madrid's first eleven are players that, in their playing positions, are top 3 in the world (well, maybe only Keylor Navas and Karim Benzema are not), and almost every player in their bench could play in the first eleven in most teams in the world. Luka Modrić has been playing for the club since 2013., and after struggling at first, for the last 4 years has been the best midfielder in the world. Combine that with Toni Kroos, who is considered just as good as Luka, and you have an unstoppable midfield that makes it even a bit unfair for the other teams. Same goes for their defence, and in the attack, they have the Champions League record goalscorer Cristiano Ronaldo (do I really need to say anything about this man?). On top of that, they play with all their heart for that white jersey and are "Madridistas" since they were children (proven by pictures in Real Madrid shirts when they were kids and just looking at the way they are passionate and how they celebrate goals), so they fight for the badge like crazy.
Now, combine everything above with the topic of mentality that I am going to talk about now and you get Real Madrid. Having the mentality of a winner and a leader is extremely important in football, but it is also extremely underrated, that is why there are teams like Manchester City and PSG, who have paid so much cash to win the Champions league but they still can't, simply because they lack that "thirst" to fight for the badge and win the game. This is, in my opinion, the strongest part of Real Madrid. The team is full of winners. Right now Real Madrid fans are watching the best captain they ever had; Sergio Ramos. Not only being one of the best centre-backs in history, his charisma on the pitch is extremely important too, the game against Juventus when he was suspended just showed you how much they need his energy on the pitch. The man is the loudest player in the locker room and on the pitch, constantly motivating and always supporting his teammates even when they are losing (watch any locker room footage or their documentary: "In the Heart of La Decima/Undecima/Duodecima). Having even one of those types of players can help a team significantly, however, Real Madrid also have Cristiano Ronaldo who is, all things taken in consideration, the biggest clutch player in the history of football.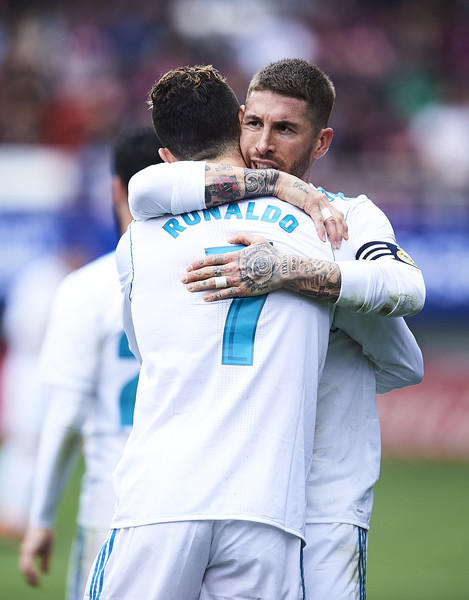 He always shows up in big games and in most cases scores the winning goal and saves Real Madrid every time they need it. If it's not him, it is Sergio Ramos with his header in the 90+ minute, which has become his speciality. Last three seasons of Champions league proved this the most. Last season he scored back to back hattricks in quarterfinals and semifinals which has never been done before, scoring an unbelievable 10 goals in the knockout stages which has also never been done before, leading Real Madrid to their new Champions league trophy. This season has been similar and he has led his team to the semifinals (he failed to score against Bayern in both legs). He scored 3 goals in the round of 16, 3 crucial goals in quarterfinals(one of them being an overhead kick regarded as one of the prettiest goals in history and a 97th-minute winning penalty kick to land them the spot in the semifinals). His hunger for goals is amazing. He constantly wants to score more, even after playing professionally for all these years. It's almost a sickness, a mental state. Even after he scores 4 goals he is mad he didn't score 5. I have never seen a player like that. Being considered one of the best players in history (him and Lionel Messi),  he has been the most important player for Real Madrid throughout the years.
It is clearly easy to see why Real Madrid has all the success they have in Europe. The quantity of skill, experience, and strong psyche is extraordinary, and if they manage to do a good job with transfers this summer, they can surely continue to dominate Europe further. La Liga, on the other hand, is their weak spot and they need to step it up a bit to have the same domination there as they do in Europe.