Do you remember that feeling as a kid when your house was full of relatives you have not seen for a while and your mother calls you to say hi? You entered that room and everyone was looking at you and smiling, and you become the shyest person ever. You look at the floor, become red as a pepper and start greeting them one by one. That's how Zinedine Zidane was after winning his third Champions league in a row. You'd expect from a person who is one of the most talented players ever and who has achieved so much in football to be an egomaniac and you would not even blame him, but he is different. Zizou is probably the most charismatic person in football history and is rarely seen not smiling. Check the celebrations at the Santiago Bernabéu after Real Madrid won their 13th Champions League trophy. Everyone is praising everyone, jumping around, having fun, singing songs and talking with fans, and they should, because they just made history by winning the competition three times in a row, but then you see Zidane just standing there at the corner alone, all quiet and smiling with hands in his pockets. It was like he was a foreign exchange student who just came to his new school and didn't know anyone. That's what separates him from the rest.
In these 2.5 years he has been coaching Real Madrid, he was never knocked out from the Champions League campaign, winning all three of them. Absolutely incredible. Think about that for a moment. Champions League is an incredibly hard competition to win just once and this guy comes along and wins it three times in a row. If you asked someone five years ago that this would happen people would call you crazy. And yet, after achieving such an incredible feat, he never gets the credit he deserves, nor the respect he deserves. If Pep Guardiola did this, the world would turn upside down with all the praise. I'm not saying Pep is not a great manager, he is fantastic, but Zizou should be getting the credit he deserves. People still continue to doubt him and keep calling Real Madrid underdogs every time they play against a big side.
Zidane is a magician. His understanding of football is beyond everyone else and he is so modest it is kind of scary. His attitude is like he never won anything in his life (we could all learn a thing or two from him, to be honest). Maybe he is tactically not the greatest, but you have to realise that he has only been coaching for about 4 years. He has much to learn, but even so, football is not only about tactics, there is a deeper meaning which he understands the best out of every manager due to being one of the best players ever. As a player and now as a manager, he understands football like few people did before. He is a master at making those slight tactical changes which always turn the game for his side. It's in the nuanced things, that's why Real Madrid always comes back when they are losing. He brings in the perfect players and changes the flow of the game rapidly. This could be seen in this season's Champions League campaign when he made changes even at halftime to bring balance back into the game. When he signed for Real Madrid as a coach, he said: "Football is not that complicated." Well, for him it isn't. For him, the players are most important and he has always defended them and blamed himself, even if it was clear that they are the ones to be blamed. In the end, the players always repay him.
"He's a great person who really understands the players. In a short space of time, he's proved his talent as a coach. He's a winning coach, but the thing that has surprised me the most is how calm he is when he explains things." – Marcelo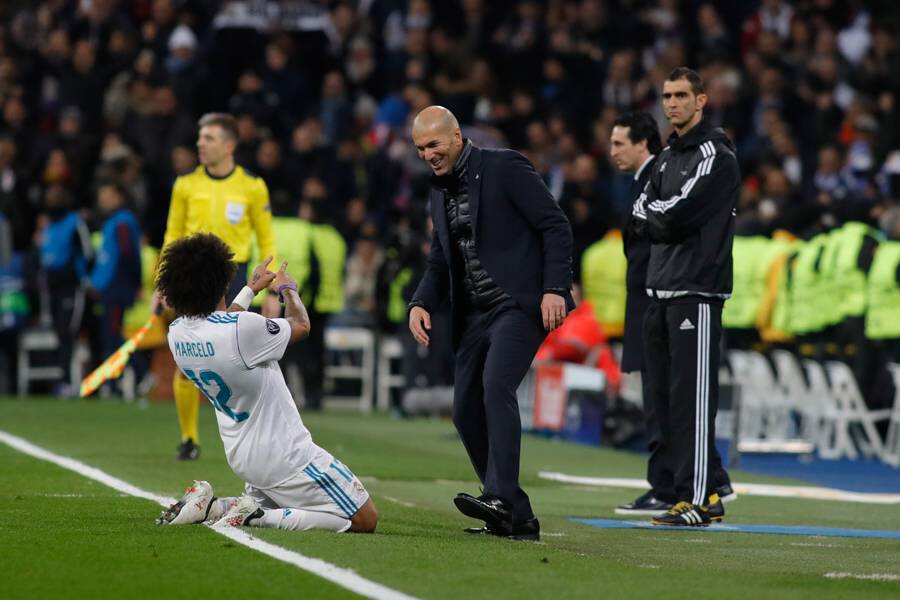 This is what most players highlight in Zidane. It is amazing how calm he is in every situation on the field. This can be seen by him not reacting at all when Real Madrid concede, he just claps and calms the players down, which in turn doesn't make them lose their focus and when you have a squad full of world class players like Real Madrid have, not letting them lose concentration is usually enough on its own. Marco Asensio once said that just by being beside him you feel a lot calmer and you know you can win the game no matter how far you are behind. Think for a moment what Zidane managed to do outside of the pitch. Players morale and unity is maybe the most important thing when you are a manager. Madrid has a squad full of players with 3 or 4 Champions League titles, players with World Cup trophies and European Cup trophies, it is full of megastars. Previous coaches who tried to say anything bad to them or give advice just made them angry and ultimately caused mayhem (Rafa Benitez).
Have you ever seen anyone else substitute Cristiano Ronaldo in the 70th minute of the game against Las Palmas when Real Madrid are barely winning? No? Well, Zidane did it a bunch of times, he rotated him a lot so that he was fresh and ready for the big games since Ronaldo is getting older and is essential for him to miss a few games here and there. Cristiano wasn't really satisfied in the beginning since we all know about his ego when it comes to football, but he listened to Zidane. The player with the biggest ego in the whole world who was never substituted like this listened to Zidane the same way a son listens to his father. It became clear who is the real boss in that locker room. It paid off in the end when Cristiano was in the best form of his life in 2017. Zizou can make players do things they never would for any other manager. The players think of him as a God and defend him all the time. There is not a single player in that squad that wants Zidane to stop being their coach. He is probably the only person in the world who the current Real Madrid squad would listen and take advice from, due to a career he has had and due to being one of the best players ever. That's why, as long as this generation is still playing in Madrid, Zidane has to continue being the manager if they are to be successful.
"I take my hat off to Zidane, for his management and his CV as both a player and a coach. He knows how to make the tough decisions, and we are all very happy to have him guiding our boat." – Sergio Ramos
Like it or not, we are currently living in "Zizou era" and if he continues like this, he could become Real Madrid's own version of Sir Alex Ferguson. His record against big clubs and big managers is beyond amazing for a person who people call "clueless" when it comes to tactics. You could say that he is lucky, luckier than most managers, he even said it himself, seeing how every time he plays against someone in the knockout stages most of their good players get injured, but luck is part of the game. Florentino Pérez has never backed up another manager like he does Zidane and he clearly wants him at the club for years and years to come. 3 Champions Leagues in a row is a historic thing and he is already in second place as a manager with most trophies at Real Madrid. Last season was his first "whole" season with the club(since he came in the second half of the season before that, taking over from Rafa Benitez) and that season was possibly Real Madrid's best season in history where they won La Liga and were the first team to defend the Champions League title since the new format began. Those are not small things and how he is not getting the respect he deserves is beyond me.
A modest genius, a charismatic introvert and an amazing manager that deserves way more credit than he is getting. Maybe winning fourth in a row will get people to acknowledge him.